Edo restates commitment to end use of amalgam for children
The Edo State government at the weekend restated her commitment to end the use of dental amalgam in the state.
A resolution was reached at a day-long maiden stakeholders' workshop on phasing down of dental amalgam use in Edo State organised by Sustainable Environment Development Initiative (SEDI) with the auspices of World Alliance for Mercury-Free Dentistry held in Benin, Edo State on October 31, 2018.
Participants that attended the meeting called for end to the use of dental amalgam for children under 16, pregnant and breastfeeding women by July 1, 2018 and urged the Federal government, other states and all nations of Africa to end amalgam use in children.
However, at a stakeholders' briefing on phase down of dental amalgam in Edo State on Saturday July 14, 2018 in Benin, Edo State attended by state officials, civil society group from the South-South region, Nigeria Dental Association (NDA) Benin chapter, President of World Alliance for Mercury Free-Dentistry, media among others, state officials said there is need to gradually remove the use of amalgam in dentistry and shift to the alternatives.
Edo State Commissioner for Health, Dr. David Osijo who was represented by an Assistant Director, Nursing Services, Ministry of Health, Pastor(Mrs.) H.C Enunwaonye emphasised that consideration as been given to compost as a better alternative to amalgam use in dentistry.
He said as the health commissioner of the state, he support the use of alternatives to amalgam because of the danger it poses both to human health and the physical environment. He assured that the state governor will be willing to end use of amalgam in the state when the document gets to his table.
He commended the efforts of the stakeholders' particularly the civil society group that have been championing the campaign in Nigeria and for using Edo as a pilot state in the global initiative and the World Alliance for Mercury Free-Dentistry.
His counterpart in the Ministry of Environment and Sustainability, represented by Mr. Ehon Godfrey said the campaign is coming at a time when the environment is deplorable and degraded as a result of chemicals.
He called for more sensitisation and advocacy to various communities on the alternatives to dental amalgam.
The commissioner added that the reason that people adduced for the use of amalgam is because its cheap and available, adding that the alternatives to amalgam should be made available for people to use.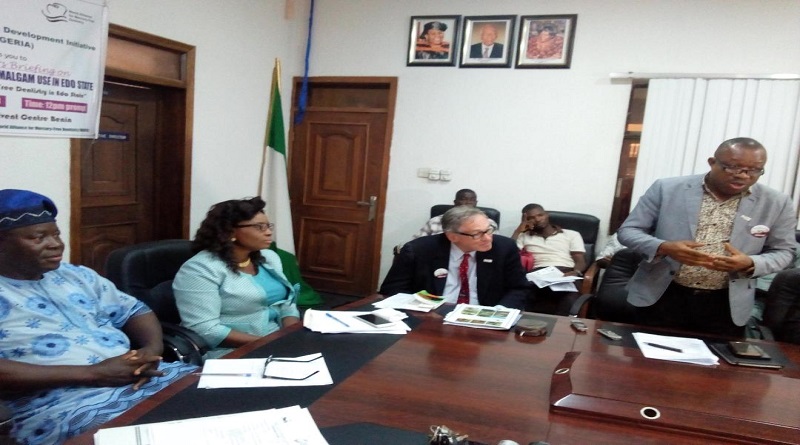 In his welcome remarks, National Vice-chairman, civil society group on phase-down of dental amalgam in Nigeria, Dr Tom Aneni, said transformative steps have to be taken to move Nigeria on to a sustainable path and ultimately ensure an amalgam free Africa.
Aneni said one of the challenges of the campaign to phase- down amalgam is the lack of policy/regulation in the country but that work is in progress to get it.
According to him, a phase down of dental amalgam in Nigeria will ensure improved dental health and a cleaner environment for children, women and men promoting disease prevention, health promotion and prevention; show that it is possible for a broad range of stakeholders to agree on a common goal; access various opportunities of support available from the Global Environment Facility (GEF) and ensure a faster adoption of the phase down campaign in African region in such a way that 'No one is left behind'.
Consultant, Paediatric Dentistry University of Benin, Dr. Ogordi Philip, disclosed that the department does not put amalgam in children rather, they use compost.
He said, "Amalgam should be in dental history and not for clinical use."
Ogordi called for teaching/training of practitioners on the use of alternatives to amalgam in the country.
Secretary, NDA Edo State chapter, Dr Franklin Abhulimen, said the chapter is in pull support of phase down of dental amalgam based on several reasons for health and the environment. "We want end to amalgam use in practice, there is need for change because of the way mercury flies around in the clinics."
Abhulimen also called for a policy on amalgam in Nigeria which he said the chapter will follow suit as soon as it is developed.
National Chairman of civil society group for amalgam phase down, Dr. Leslie Adogame, noted that Nigeria started the campaign way back when the discussions on mercury started.
He explained that there were some resistance at the beginning because of training practitioners had received on amalgam and that science had not really come up with alternatives but that things have changed and that science has come up with alternatives now.
Adogame hinted that the federal government has started the process to develop a national policy on the phase down since the country ratified the Minamata Conventionn on Mercury in February this year.
He called for collaboration between the ministry of health and environment in Edo State so that the objectives of the campaign can be achieved.
He also commended the President of the World Alliance for Mercury free-Dentistry, Mr. Charlie Brown for his commitment to the campaign and interest in Nigeria. "It is do able to phase out amalgam", he added.
In his brief comment, Charlie Brown said the event is a celebration of the maiden stakeholders' summit that was held last year.
Brown said phase down amalgam is something that Africa can do even if the west is saying do not do it. He called on civil society group to take the message to the region.